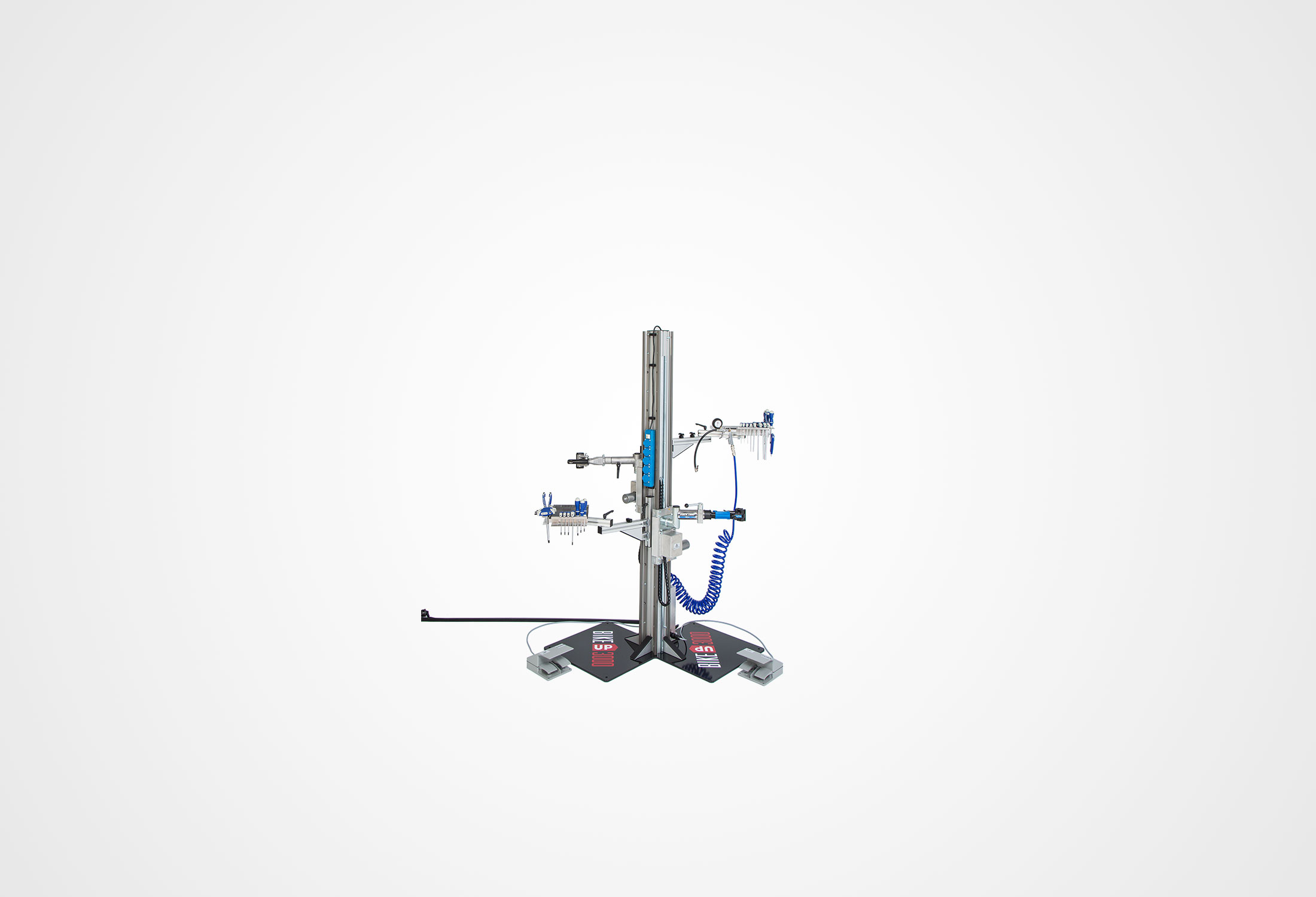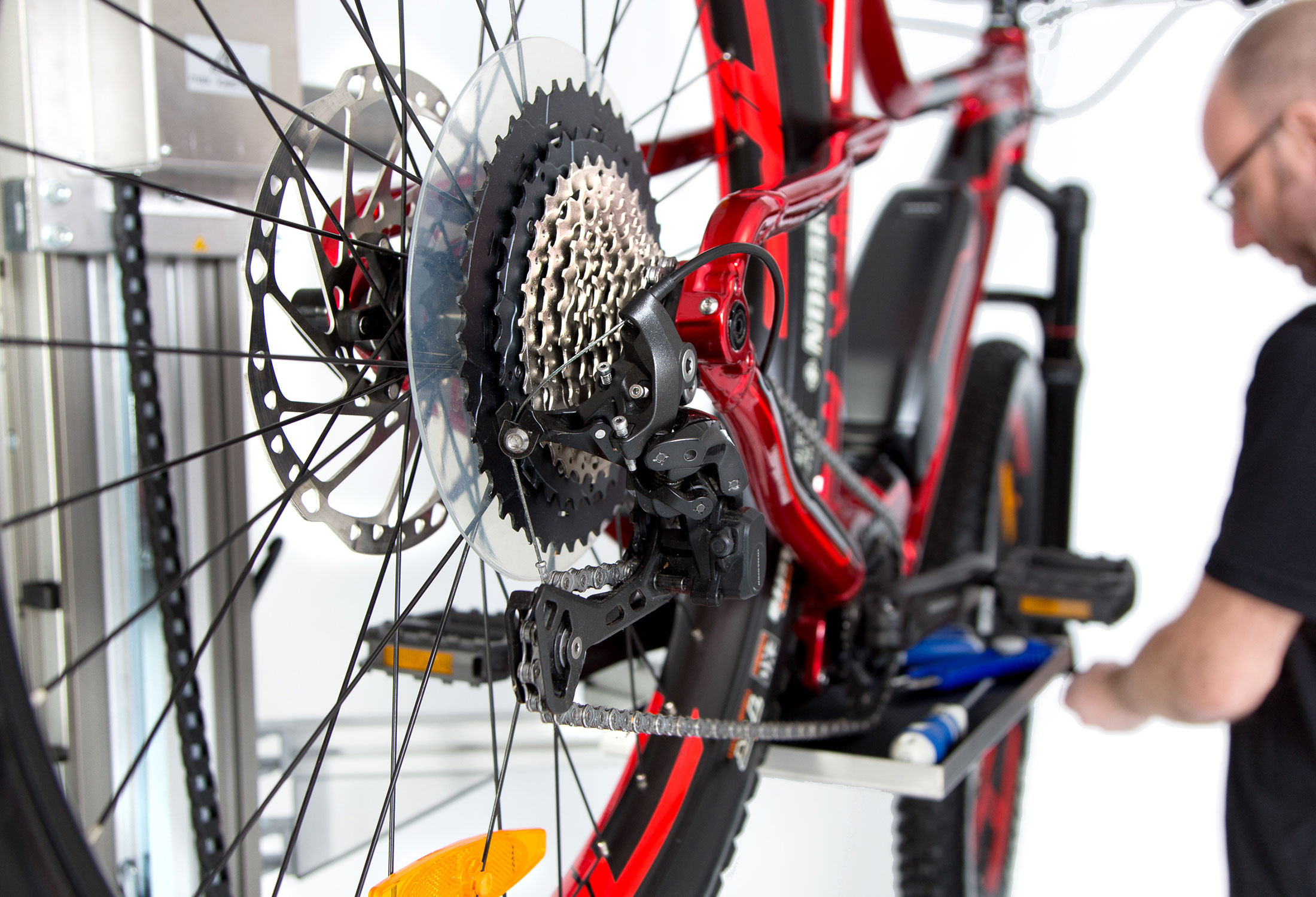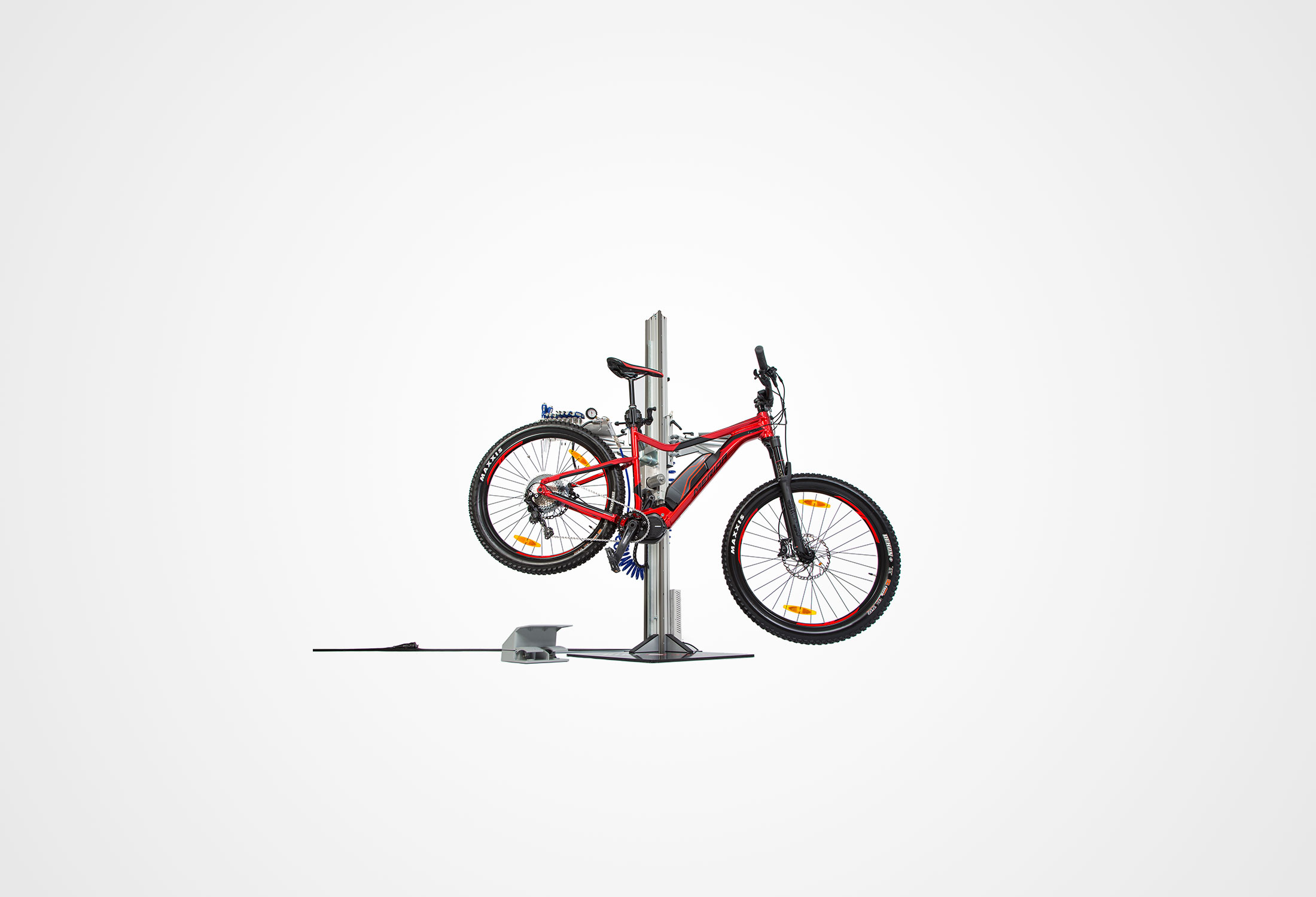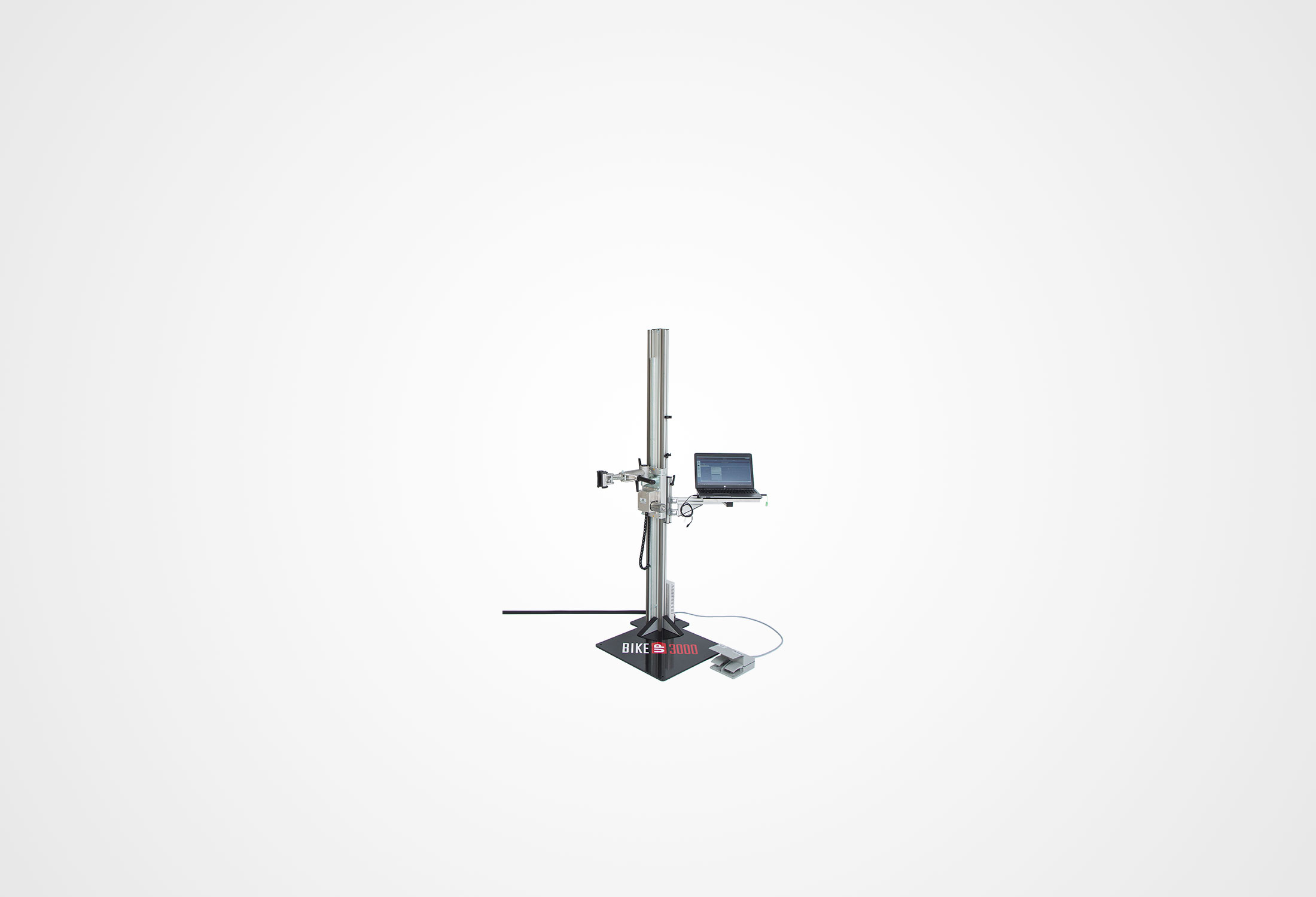 The new lifting platform for bicycles & e-bikes
Powerful and compact.
The "BikeUp 3000" is an electric lifting platform designed and produced by blackTEC mechatronics in Austria, which makes the maintenance and repair of bicycles of all kinds considerably easier. The free-standing construction is stable and robust, the investment costs are manageable. It is operated with a foot pedal.
The special feature: a lubricant-free "drylin W linear guide" from igus, which, as a pre-assembled system, ensures stepless height adjustment and thus enables an ergonomic working position at all times.
All advantages
at a glance
Insensitive to dirt
Low maintenance due to sliding guide
No lubrication necessary
Lifting height up to 1970 mm
Lifting force up to 50 kg
Stepless working height adjustment
Ergonomic working position
Designed and produced in Austria
The idea
The idea was to bring an electric lifting platform for bicycles onto the market, whose investment costs in the basic version are in the affordable range and which enables an ergonomic working position. Furthermore, to develop an economical product that is durable and makes everyday work in the workshop easier when lifting bicycles. Only a few parts move to minimize wear. Right from the start, it was clear for the designers to do without roller guides and to rely on economical linear guides from igus. The linear guides are based on maintenance-free, i.e. self-lubricating high-performance plastics. Due to lubrication incorporated in the bearing material, the bearing materials are designed for permanent dry running. All applications are thus protected against contamination by grease and oil. It can even be used in contact with coarse dirt and sand.

Scoring points with bicycle customers
A bicycle shop is usually always connected to a workshop. Equipped with the right equipment, even the smallest shop can score with its customers. In addition to equipment expertise, they also show professional competence. The bike is automatically lifted, with or without luggage, and the repair can begin.

Ergonomic working position
The lifting platform does not only show its functionality on bicycles. A correct posture at work is essential for occupational safety and health. The'Bike Up 3000′ lifting platform can even be used with folding wheels to provide ergonomic relief for the bicycle mechanic.

From practice for practice
The development of the overall solution took only a few months. The designers have long relied on the advantages of igus plastics, which stand out with regard to stability, friction and durability. The prototype was tested in real-time operation in order to be able to make adjustments.
Type
BikeUP 3000
BASIC
"BASIC" model
incl. base plate
incl. foot pedal
without retaining claw
without screw-on flange
from € 2.350,-
"PROFI" model
incl. base plate
incl. foot pedal
incl. ELITE retaining claw
incl. screw-on flange
incl. assembly table
from € 2.670,-
"TANDEM" model
incl. base plate
incl. foot pedals
without retaining claws
without screw-on flange
from € 3.795,-
Measurements
| | |
| --- | --- |
| Total weight (incl. holding claw) | ca. 50 kg |
| Base plate | 600 x 600 x 10 mm |
| Total height | 2014 mm |
| Net lifting height | 1600 mm |
Drive & lifting force
| | |
| --- | --- |
| Maximum permissible lifting force | 50kg |
| Nominal lifting force | 25kg |
| Power supply | 230V/1A |
| Drive by extremely powerful and robust | 12 V worm gear motor |
Retaining claw
You can choose between different manufacturers of retaining claws.
The ELITE retaining claw is recommended as standard (clamping diameter Ø 18 to Ø 45 mm).Other retaining claws are from the brands
PARKTOOL, REIFIG and VAR available.
The screw-on flange allows a quick and easy attachment of the desired holding claw to the BikeUp 3000.
Materials
The column and carriage are made of stainless aluminium.
The base plate is made of steel (primed and painted).
Safety & Operation
You Push-button operation (one foot switch each for up and down)
Stepless working height adjustment possible
Self-locking in any position (no sagging of the load possible)
Limit switch controlled travels
The load is lowered without force!
Specifics
Insensitive to dirt
Low maintenance due to sliding guide
No lubrication necessary
IGUS® plain bearing is designed for 1500 km (load-dependent)
Mayrhofer & Schütz OG
Hauptstraße 8/2
4861 Schörfling am Attersee/Kammer
Mobil: +43 664 44 36 434
Email: office@bikeup-gmbh.com
UID-Nr.: ATU61127426
Offenlegung nach § 14 HGB: OG
Landesgericht Wels FN 253574d
WE ARE LOOKING FOR WHOLESALERS FOR THE FOLLOWING COUNTRIES
EU
Germany
Switzerland
Italy
Holland
Spain
France
Portugal
Czechoslovakia
Great Britain
Hungary
Slovakia
Poland
INTERNATIONAL
Australia
New Zealand
United States
SAIL & SURF
Produktions- und Handelsges.m.b.H.
Bundesstraße 55
4822 Bad Goisern
Tel: +43 6135 20633-0
Email: office@sailsurf.at
UID-Nr.: ATU35137302
STUBBE MASCHINEN und Maschinensicherheit
Inh. Ralf Stubbe
Irisweg 10
26169 Friesoythe
Tel: +49 4491 938563
Mobil: +49 172 4052 842
Email: ralf.stubbe@stubbe-maschinen.de
UID-Nr.: DE231399343
Postcodes Germany:
26, 27, 28, 29, 20, 21, 22 (Peripheral areas 19, 23, 24, 25)
30, 31, 32, 33 (Peripheral areas 34 & 37)
49, 48, 46, 45, 59 (Peripheral areas 47, 44, 57, 58)
North of the Netherlands
WE ARE LOOKING FOR TRADING AGENTS FOR THE FOLLOWING COUNTRIES
Germany
Switzerland
Italy
Holland
Spain
France
Portugal